400 W Douglas Ave.
Wichita, Kansas 6720
Reservations:
Call 1-800-325-0720 or go to www.druryhotel.com to make your reservation. Please refer to the group code of 2393069.
Cut off date: September 26, 2020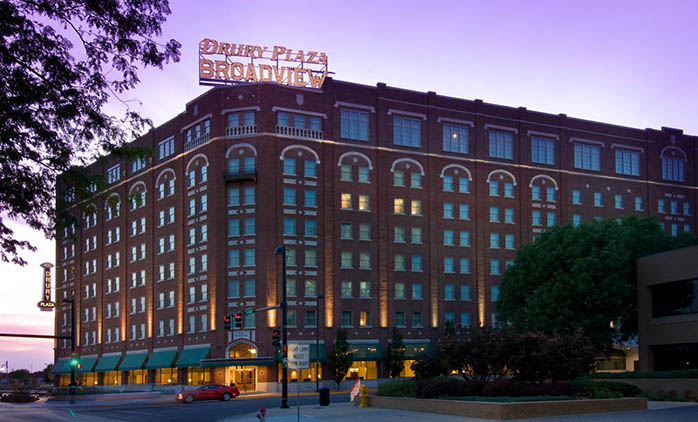 Platinum Sponsor ($2500)
Priority placement of company name and logo prominently displayed in conference registration packet
Pre-event recognition as a Platinum sponsor on promotional conference materials
Complimentary exhibit table in high traffic area to meet attendees and distribute promotional material at breakfast and breaks (encouraged, but not mandatory)
Special acknowledgment from the podium as a Platinum level sponsor
Platinum Sponsors to be highlighted as sponsors of the Member Appreciation Reception and Banquet
Company name and logo displayed on scrolling projector screens during general session and break
Company name and website link featured on the KMEA website from November 2020 – October 2021
Company name featured in the KMEA Annual Report as a business partner with a print distribution of 300
Two complimentary registrations to attend all meeting functions, including member reception and banquet
Recognition in the KMEA monthly Newsletter "Utility Connection" for a year
As a Platinum Sponsor for an additional $250 you also have the opportunity to be a meal sponsor. This will allow you individual acknowledgment through table toppers and company logo projected on screen during breakfast and lunch.
Gold Sponsor ($2000)
Company name and logo prominently displayed in conference registration packet
Pre-event recognition as a Gold level sponsor on promotional conference materials
Complimentary exhibit table in high traffic area to distribute promotional material at breakfast and breaks (encouraged, but not mandatory)
Special acknowledgment from the podium as a Gold Level Sponsor
Company name and logo displayed on scrolling projector screens during general session and break
Company name and website link featured on the KMEA website from November 2020 – October 2021
Company name featured in the KMEA Annual Report as a business partner with a print distribution of 300
One complimentary registration to attend all meeting functions, including the member reception and banquet
Silver Sponsor ($1500)
Company name and logo prominently displayed in conference material registration packet
Special acknowledgment from the podium as a Silver Level Sponsor
Company name and logo displayed on scrolling projector screens during general session and break
Company name and website link featured on the KMEA website from November 2020 – October 2021
Company name featured in the KMEA Annual Report as a business partner with a print distribution of 300
One complimentary registration to attend all meeting functions, including the member reception and banquet