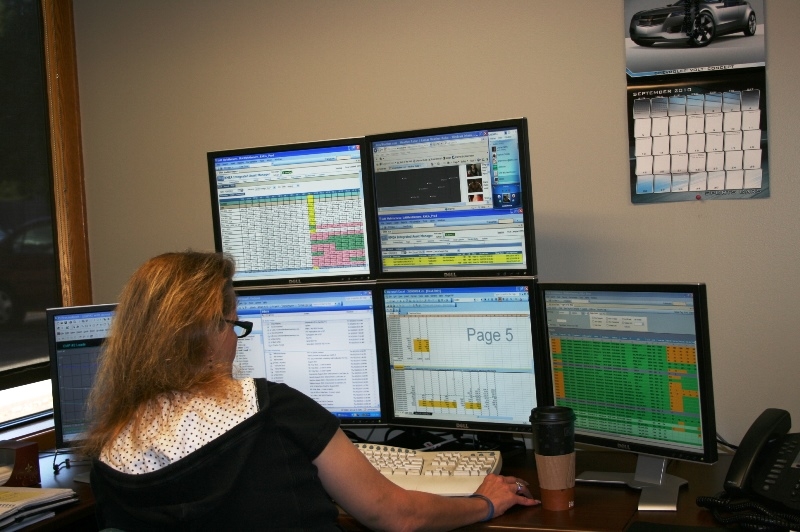 Paula Campbell has been with KMEA for over 28 years and is retiring at the end of June.  Paula holds the position of Senior System Operator in our 24 hour operations. She began her employment with KMEA on December 25th, 1990 and her last day will be June 28th, 2019.  We want to Congratulate Paula and wish her a Happy Retirement!!
We thought we would take little time and ask her some questions so we all could know a little more about her before she leaves:
What are you most proud of in your career?
I would say I am most proud that I was able to keep up with an ever-changing industry for all these years.  The electric industry is not for the faint of heart and you must be able to roll with the changes to be successful.  Here's one example that still makes me laugh:  I told my youngest son, Nathan, back in 2013 that we were having to study and take tests as we prepared for the SPP Integrated Marketplace.  His response was – haven't you already outgrown having to take tests?
What is something most people don't know about you?
When I was in high school, I was seriously considering going to college to study to be a psychologist.  I was so intrigued with the human mind and loved reading books that were psychological thrillers and true-life stories about serial killers.  I guess that's why I enjoy watching Criminal Minds.
Who is/was the most influential person/people in your life?
I would have to say my mom and dad had the most influence on my life.  We were blessed that mom was able to stay home with us while dad traveled 5-6 days a week as a District Sales Manager for a farm equipment company.  Watching how hard my mom worked at home to keep the family in order while dad was on the road providing the financial support taught me the strong work ethic that I took into my adult life.
What was your favorite movie growing up?
Wow – this is a hard one.  Some of my fondest memories come from watching musicals with my mom (it would make my dad and brother head for the outdoors).  I'll have to say The King and I, Fiddler on the Roof and Sound of Music all hold a special place in my heart.
What is your favorite sports team?
This will have to be team(s) – Kansas Jayhawks (basketball), Kansas City Chiefs and Kansas City Royals
What has been your favorite part about working for KMEA?
My favorite part about working for KMEA has been the relationships that I have built with the city personnel over the years.  I feel so blessed to have met so many amazing individuals over the years and those friendships will always remain dear to my heart.  I spent 17 years on call for KMEA and worked very closely with the cities.  It gave me a true appreciation for the power plant personnel and linemen who do what it takes to "keep the lights on" for their municipal customers.
What are your retirement plans?
We are retiring to Lake Havasu City, Arizona to enjoy life in a desert paradise.   Buying a boat so that we can spend our days on the lake is on the top of the list once we get moved.  My husband, John, can hardly wait to spend his days fishing.  We have 5 grown children and 3 grandchildren that we can't wait to spend more time with.    Best of all – no more snow, ice, tornado's, lawn mowing or 4:15 a.m. alarm waking us up 😊
https://kmea.com/wp-content/uploads/2019/05/Paula.jpg
800
741
KMEA
http://kmea.com/wp-content/uploads/2015/08/KMEA-2015-LOGO-e1452287609185.png
KMEA
2019-05-24 11:34:18
2019-05-28 09:04:07
Paula Campbell Set to Retire on June 28th!