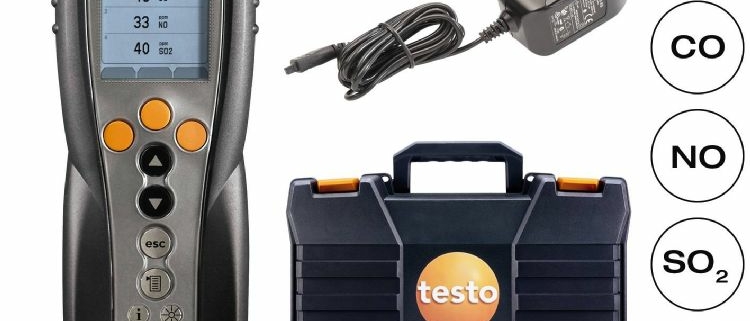 Beginning in January 2021, KMEA has added 2 Testo 340 Gas Analyzers to our Loaner Equipment inventory.  The analyzers were purchased specifically for pre-testing the reduction of emissions in the catalysts for our member's "RICE" compliant engines.  This allows operators some comfort that the catalysts will perform as they should ahead of scheduling expensive certified tests.
The City of Baldwin City was the first to utilize the equipment and Jeff Winkler, Power Plant Superintendent had this to say about the equipment:
"Last week we were the first city to get to use the two Testo 340 gas analyzers that KMEA recently purchased.  The preliminary CO reduction tests that we ran on our two RICE compliant engine catalysts help assure us that the cats are actually still performing as expected and ready for the either three or five year emissions test required by the Federal Government and the State of Kansas.  Even though this test is not a certified test, it does give us some assurance that the units will actually perform as expected in the certified test without cleaning or replacing the catalysts.  As you know, the certified tests are rather expensive, and if the catalysts failed during the test we would be forced to clean or replace the cats and then schedule the certified tests again after the replacement.
The Testo 340s proved to be easy to use.  The only readings that we were interested in at the time were carbon monoxide, but these units are also set up to do much more.  Each of the units can test for O2, CO, and SO2 in engines and turbines run on both diesel and natural gas.   Even though we did not try it, the units are also able to send the info to a Bluetooth printer if desired.  The fact that you have two Testo 340s allow both the pre cat and post cat gases to be tested simultaneously or the tools could be loaned to two cities at once and each unit's probe could be moved between the pre cat and post cat ports to determine reduction performance."
"KMEA's loaner program is just one more of the many benefits of being a member city." 
Jeff Winkler
Baldwin City Power Plant
Loaner Equipment is available to KMEA Member Cities on a first come first serve basis.  Please Contact Gerry Bieker, Manager, Member Services to inquire about availability. Or by phone at 913-660-0232
https://kmea.com/wp-content/uploads/2021/01/Testo-340-SO2-Kit-Image_prl.jpg
625
750
KMEA
http://kmea.com/wp-content/uploads/2015/08/KMEA-2015-LOGO-e1452287609185.png
KMEA
2021-01-27 08:22:35
2021-01-27 08:27:43
Testo 340 Gas Analyzers Added to KMEA Loaner Equipment Inventory