Kim Everley Receives the Ron Huxman "Distinguished Service Award "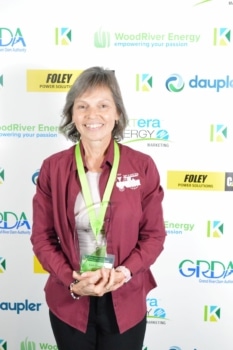 This award was established in 2016, in honor of Ron Huxman.  Ron played a leading role in the day-to-day activities of the agency, as well as serving as President, Executive Committee member and Joint Board member.  The award honors his contributions to KMGA and is awarded to individuals who have demonstrated exceptional leadership and devoted service to both KMGA and to the Municipal Natural Gas Industry.
This year's recipient of the Ron Huxman award was Kim Everley, the City Clerk/City Administrator of the City of McLouth. Kim has lived in McLouth since she was 13 years old and has long been a dedicated servant of her community. Before starting as City Clerk  in 2009, she served as a City Council Member.   Her record of service doesn't stop there, however. She was also the President of the Jefferson County Area Chamber of Commerce as well as the Courtesy Chair for the KACM, Kansas Association of Court Management, court clerks association.
Kim embodies everything you would envision in a go-getter.   She quickly made her mark after becoming City Clerk, reconciling important records and an accounting system that was in need of rescue. She earned her designation of Certified Municipal Clerk within three short years on the job and quickly proved herself ready to handle the responsibilities of City Administrator when the position became open in 2013.
In 2015, Kim was awarded City Clerk of the Year by the Kansas Rural Water Association at their Annual Conference.  She was also awarded Master Municipal Clerk Designation this year.
Kim has never been shy on taking on every job at the city including helping with water, sewer, gas projects, reading meters, and many other duties "as assigned" when the need arises.
With all of her community awards and accomplishments her pride and joy is her family.  Along with her husband they have 3 children and 6 wonderful grandchildren (stay tuned for possible additions).
Congratulations Kim! Well deserved!
Pat Adams Receives the Mike Gilliland "Honor Award "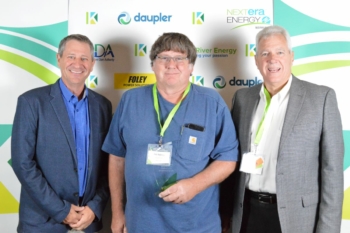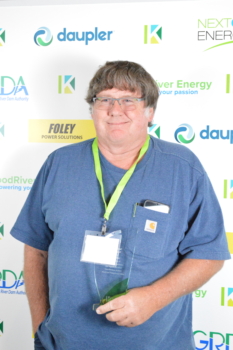 In 2016, KMGA established this award in honor of Mike Gilliland. He played a leading role in the agency serving multiple terms as President, Vice President, and Executive Committee Member. The award honors his contributions to KMGA and is to recognize an employee of a KMGA member city who has, over a period of years, demonstrated outstanding performance and made significant local contributions to their municipal utility.
This year's recipient of Mike Gilliland award was Pat Adams, the City Administrator of the City of Halstead. Pat started working for the city on April 25, 1994 as a Utility Maintenance Worker. In October of 2000, he was promoted to the position of City Superintendent, overseeing all of the city's Public Works and Utilities.  He also served as the city's IT specialist for many years, managing yet another form of infrastructure for the city.  In his almost 30 years with the city, he has been involved with, led, or in someway been called on to support many project such as Halstead's Flood Control Levee, replacement of the municipal swimming pool, two wastewater treatment plant upgrades, three new housing subdivisions, industrial gas connection for an asphalt and emulsion plant, formation of a Public Wholesale Water Supply District, construction of a new Public Works building, a new Fire/EMS station, a City Hall remodel, and transitioning from a manual read to an automated read metering system for city owned utilities.
He often jokes that he is a jack of all trades and a master of none and you would be hard pressed to find a job he has not done for the city.  His knowledge of the city's infrastructure and past projects is second-to-none, sometimes spookily uncanny, and probably not a week goes by without you being able to hear someone utter the phrase "he will know" or "Let's ask him" or "He will remember".  Pat often goes above and beyond be it ensuring his department helps behind the scenes with local civic or volunteer groups, businesses, or city events as well as assisting other departments like Parks & Recreation or even Public Safety departments with assistance for various projects.  When the city needed a camera operator when it started televising its City Council meetings, you guessed it . . . he is behind the lens on Monday nights, and subsequently probably has at least the city's record for most attended City Council meetings.  Pat never shies away from a request and always seems happy to help whether that may actually be true or not.  He also is as giving with his personal time in ways that benefit the community.  Over the years he has volunteer his time by helping things like Boy Scouts, Old Settlers, and the City's Historical Society and Museum.
"Pat is a rare find and the city is very lucky that he has chosen to put his talents to work for the city.  Pat exemplifies servant leadership and there is no doubt that Pat has stayed with the city for so long and excels because he truly cares for Halstead as a community and for the people in it.  The positive differences and impacts he has made for Halstead are immeasurable and continue to make Halstead a city positioned for growth and new opportunity." Ethan Reimer
Congratulations Pat Adams on this well deserved award!